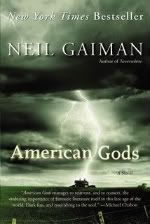 Author: Neil Gaiman
Genre: Urban Fantasy
Favorite Line
"He hoped he would live through this, but he was willing to die, if that was what it took to be alive."
Summary
The idea of summarizing this book scared me, but none of the summaries I found on the Internet worked for me. It seemed like they just gave to much away. Hence, I am going to do my own three sentence summary.
Shadow is released from prison two days early due to his wife's death. There after he meets the mysterious Mr. Wednesday, who offers him a job. Little does he know that by taking this job he will be joining the battle for the soul of America.
What I Thought of This Book
Okay, I'm going to tell the truth. I'm so sorry for saying this Neil Gaiman, I love you, but the first time I tried to read this book I didn't really care for it. I couldn't figure out what the heck was going on in the story. All I did know was that I thought the lead character, Shadow, was pretty awesome. I gave up on reading it after the first few chapters.
Then my mother explained to me that American Gods is very much like television
serial dramas
such as LOST or Heroes. You like the show much better if you don't try to figure out what going on, and just enjoy the little reveals that come along the way. This turned out to be the best advice ever when it came to reading this book. I found it quite a excellent story once I stopped trying to explain what was going on and just read the words on the page.
The best thing about this book is that it is memorable. It took me at least two or three months to finish it, because I was so busy. I thought for sure when I didn't look at the book for three weeks that I would have forgotten everything that had happened. Fortunately, this was not the case. This story is so adorably weird that it's almost impossible to forget.
Warning: This is a complex novel. There are tons off beat characters, mythological gods, flashbacks, side stories, alternate universes, trips to the underworld, introductions to characters that don't come into play until much later in story, people that come back from the dead (because you know nobody in fantasy ever just stays dead), and mysterious men in suits. I love all that stuff. However, it you do not like a least three or more of the things listed above this may not be the book for you.
If you're confused when you read this book I think
Wikipedia
will help. I don't suggest going to the wiki page until you've finished the book though, since the plot summary included is full of spoilers. However, if you scroll past that part I think you will find the external links quite beneficial.
Facts I Found Interesting
1. Shadow got his name from an Elvis Costello song.
2. Many of the towns and tourist attractions featured throughout the novel are actually real places in America.
3. Tori Amos' song "Wednesday" is said to be a reference to the character Mr. Wendnesday in American Gods. I personally never really saw how the song related to the book until I read a couple comments she had made about the song. Since, the song seems to be about being in a relationship with a man with many secrets, and Mr. Wendsday is depicted as a bit of a philandering conman I suppose I can see how Tori could have been referencing him in the song.
The Movie
No movie. I'm torn on whether I'd ever want one to be made. There are so many elements to it. I don't think you could fit it into a two hour feature. I do think that a lot of things at the end of the book would be cool to see visually.
Music To Read By
Favorite Albums
Best album for this book for me was
Sun and Moon
by
The Bravery
. The feel of the music just fits the story. I can't explain it.
I was also fond of
808 & Heartbreak
by
Kanye West
. I believe this is because a few of the songs remind me of Shadow's relationship with his wife.
My other favorite albums where
Viva La Vida
by
Coldplay
,
A Beautiful Lie
by
30 Seconds To Mars
,
Run Lola Run Soundtrack
, and
Absolution
by
Muse
.
American Gods Playlist
This playlist was pretty easy since a few of the songs on here are actually mentioned in the book. Thanks Neil for making my life easy.
You Know What They Do To Guys Like Us In Prison

- My Chemical Romance
Coldest Winter

- Kanye West
Believe

- Franka Potente

(Run Lola Run Soundtrack)
Walking After Midnight

- Patsy Cline
Time Won't Let Me Go

- The Bravery
Bad News

- Kanye West
42

- Coldplay
Who Loves The Sun

- The Velvet Underground
Immigrant Song

- Led Zeppelin

(I couldn't find this song in it's entirety for the player below. I'm too lazy to look for it, so if you want to hear more that 30 seconds of it you'll just have to go by some Led Zeppelin. You won't be wasting you money I promise you.)
Help

- The Beatles
Viva La Vida

- Coldplay


Cells

- The Servant

This Is Not The End

- The Bravery


Many Funerals

- Eisley

Re-evolve

- 30 Seconds To Mars
Other Side

- Red Hot Chilli Pepers
Sleep

- My Chemical Romance
Apocalypse Please

- Muse
Believe

- The Bravery
Buterflies and Hurricanes

- Muse
A Modern Myth

- 30 Seconds To Mars
Don't Let Me Be Misunderstood

- Nina Simone
Across The Universe

- Jim Sturgess

originally performed by The Beatles
Finally Woken

- Jem
Well that's all folks. I hope to be back soon with the next blog. Keep is shiny!

Next About Books Blog: Winter Of Fire by Sherryl Jordan